What are Packing Cubes?
Date Posted:8 August 2017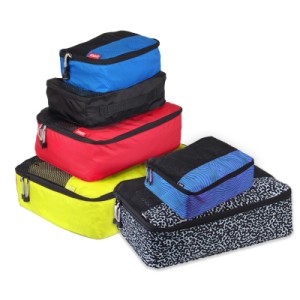 Packing 'cubes' help you organise your luggage, making sorting and compression of luggage quick and easy. They make it a lot easier to keep your suitcases tidy during a journey and easy to unpack at each hotel, as items can be left in the cubes in the suitcase or placed in the hotel room wardrobe.
The smaller versions are ideal for items such as:
Socks, Stockings, Underwear, Lingerie, Belts, Ties, Bathers and Toiletries,
Digital Cameras, Mobile Phones and other portable electronic devices
Chargers, cables, power adaptors and electrical accessories.
Larger versions are more suited for items such as:
T-Shirts & Shirts
Jeans, Trousers, Skirts & Dresses.
Jumpers & Jackets
Towels
Also, larger versions are great for separating your dirty laundry from clean clothing.
Our packing cubes are made from high quality nylon material which is lightweight and tear-resistant. They also feature a double zip for secure compression and a mesh panel to allow breathing and provide visibility.
Also known as travel cubes, these packing cubes are available in many sizes. You can mix and match colours for easy identification, and purchase packing cube combinations based on sizes which work best for your luggage:
"I always use cubes and zip bags when I travel - great for cruising or hotels when you don't have much storage space! I take them out of my suitcase and leave most of the clothes in them. If you have plenty of drawers and hanging space, then you can take everything out and re-pack (but it's quicker to repack if they're still in their cubes) "
by Debra Dean 26/07/17 on our Facebook page.