Packing a Carry-on Bag
Date Posted:1 December 2016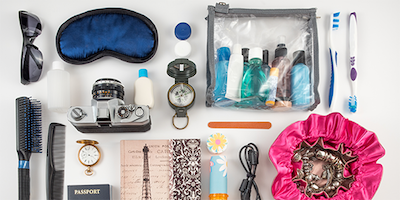 What should you take with you onto the airplane? Remember to check your airline's carry-on restrictions before heading to the airport.
Your documents and wallet. Keep your passport and boarding pass in a safe spot, but one that's easy to reach.
Comfort items such as a neck pillow, ear plugs, and eye mask. A scarf or thick socks can help keep you warm on chilly flights.
Toiletries. Freshening up during a long flight can make the trip more bearable, but only pack the necessities, such as a toothbrush and toothpaste. If you're bringing any other liquids, make sure to pack them in travel size containers, and zip them up in a clear, resealable bag.
Entertainment. Many flights now have plenty of in-flight movies and shows to choose from, but pack a book or magazine for when your eyes get tired of the screen. Download some podcasts or audiobooks onto your phone - but don't forget to pack headphones and a charger.